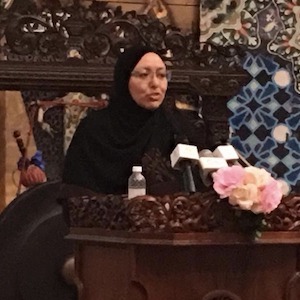 Samar Al-Mawy
Sister Samar is the founder of Marjan Programs.
She is a graduate of the American University in Cairo, with a B. Sc. in Construction Engineering. Her career and professional background is summarized in 12 years experience in the Project Management field.
Al- Hamdulillah, she has been blessed to have Ijazah Sanad in Haffs  as per 'Assim, as well as Ijazah Tilawah in the ten Qiraat (modes of recitation of the Quran).
With the help and grace of Allah, she possesses profound experience -more than ten years- in teaching all tongues of different ages, training and consulting in the field of Tajweed and Quran education. This enabled her to develop the curriculum and program for Teachers Training Program (TTP) whereby she conducts the program, live on-site- in different countries.
Her experience and passion of teaching extends to teaching a variety of courses related to Ulum al-Quran.
She delivered live courses of Tajweed, Noorania, TTP, Ulum al-Quran and public lectures in 17 different cities, in 9 different countries.
Sister Samar, in addition to being experienced online teacher, teaching at many online esteemed universities and academies, she also holds the position of the Head of the Quran and Tajweed Department- Sisters Section- at Knowledge International University (KIU).
Based on her extensive experience in studying and teaching different poems and topics covering tajweed and quran related topics, she also established online Motoon Foundation teaching and giving Ijazah in Tajweed related poems.
Sister Samar provides Tajweed and Quranic education consultancies for different schools of Quran studies.